Zanardo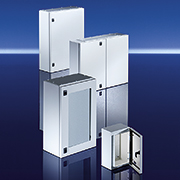 ZANARDO S.P.A. has been manufacturing steel and stainless steel Enclosures for electrical and electronic systems since 1975. There has been an on-going policy of improvement and design technology of their products and production plants.
It involves all Zanardo employees in increased product awareness in order to develop a culture of high quality and world class production facilities.
Over the last 40 years, Zanardo have been exporting their high quality steel and stainless steel enclosures throughout Europe, Australia, Africa and the United States, with a total guarantee of quality.
Zanardo's extensive catalogue offers technical solutions for wall mounted enclosures in Steel and Stainless steel as well as junction boxes in steel and stainless steel. As well as the elements for thermal control consoles in the interior of enclosures and a very wide range of accessories to facilitate the construction of your equipment.
Also available from Zanardo are 19" racks and Control Consoles in both Steel and Stainless Steel
Quality at Zanardo is an indispensable requirement to guarantee that their customer's needs are met. Zanardo's Products which have been tested and certified have the following approvals where applicable.